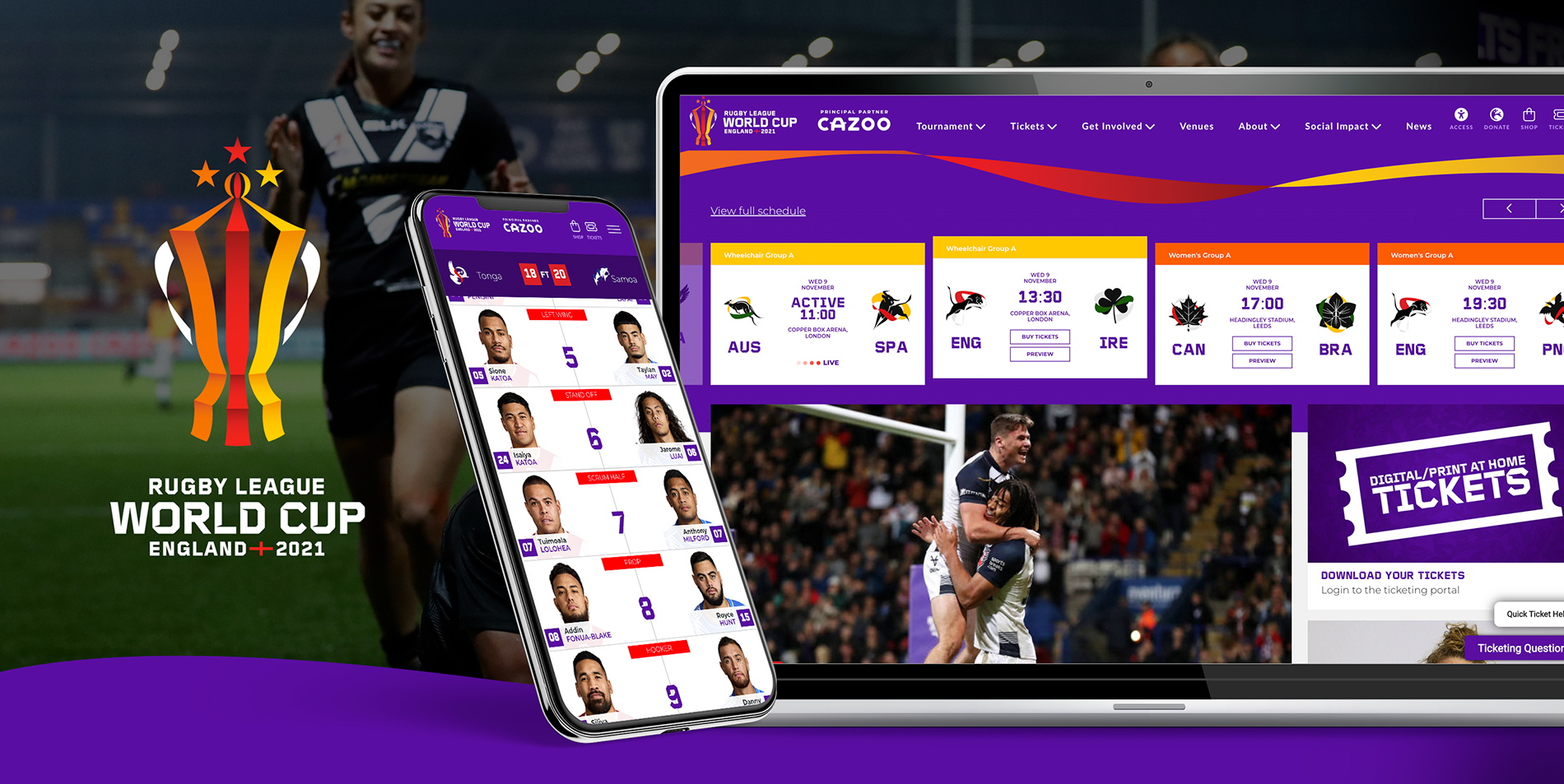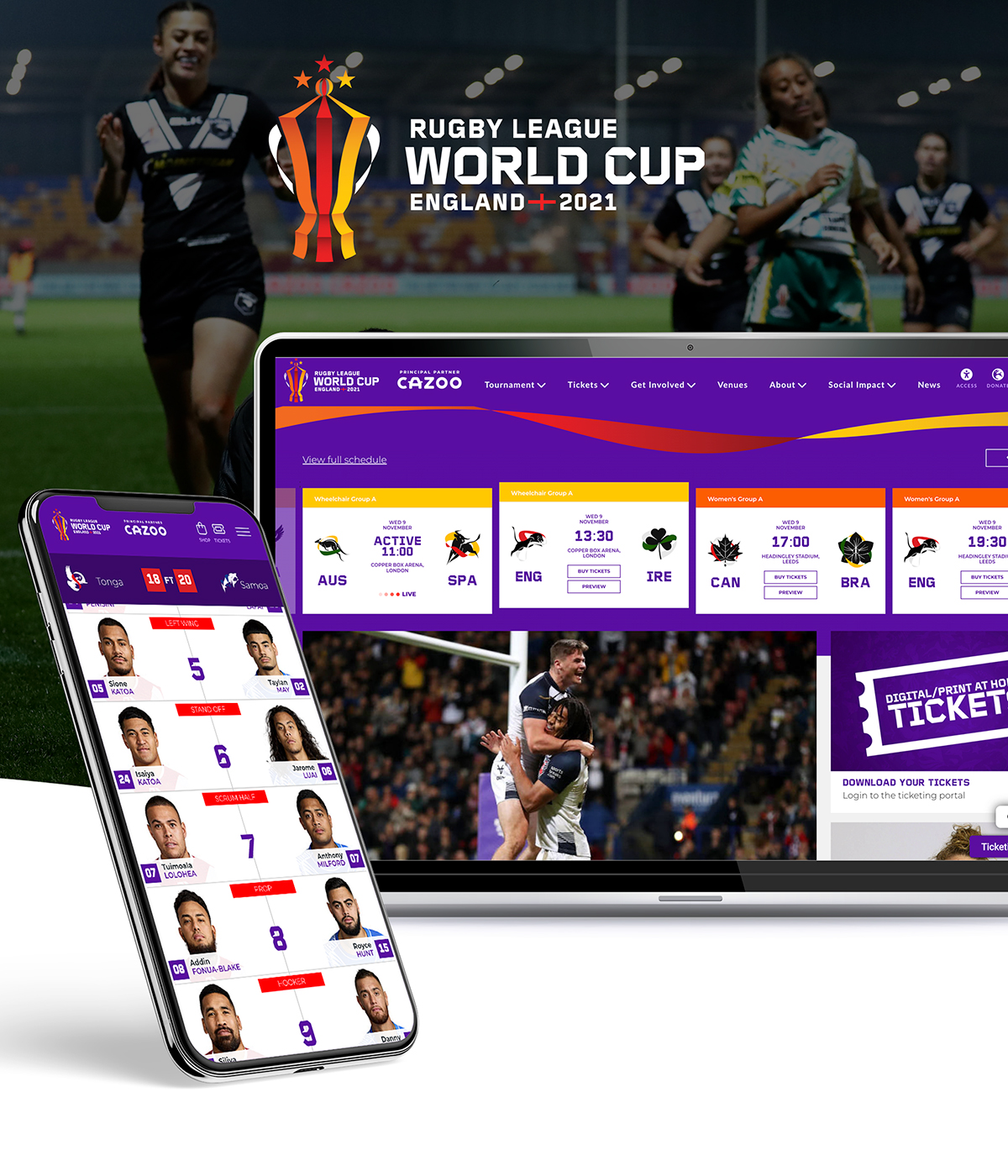 14th November 2022
Official Rugby League World Cup Web Site...
...designed, development and managed by FluidCM
You've probably noticed the international flavour of the BBC right now, as it's currently broadcasting all the Rugby League World Cup matches. This is a ground-breaking tournament, marking the first time that the Men's, Women's and Wheelchair disciplines have competed at the same time. Which only makes us more proud to have designed and supplied the tournament's official website.
The Rugby League World Cup is the biggest international event in the Rugby League calendar and is normally only in the northern hemisphere once every 8 years. This year, across the three disciplines, 20 nations are taking part in a total of 61 games – all of which will be either broadcast or streamed around the world to more than 150 countries. It's the biggest platform the Women's and Wheelchair disciplines have ever had, and is a great testament to a tournament that is inclusive, representative and one that does not tolerate prejudice of any kind.
The website for Rugby League World Cup 2021 is the home for all things related to the tournament. Beginning with building awareness, through to launching ticket sales and now, during the competition, keeping audiences up to date with all the latest match information, statistics, and news from across the Men's, Women's and Wheelchair tournaments.
We were awarded the contract in 2018 following our successful management of the 2013 project and our vision for the 2021 site, as well as the scope of our capabilities. Our role was to deliver a three-phase approach to the website and hosting platform:
Phase 1
The initial awareness website, including host city procurement and grants application process
Phase 2
The launch of tickets sales and the official draw by Prince Harry, the Duke of Sussex, which was streamed live on the site and saw a massive spike in traffic
Phase 3
Full competition management system with matches, group standings, nation and player biographyies, live scores & statistics, inetgration Stats Perform API feed and much more...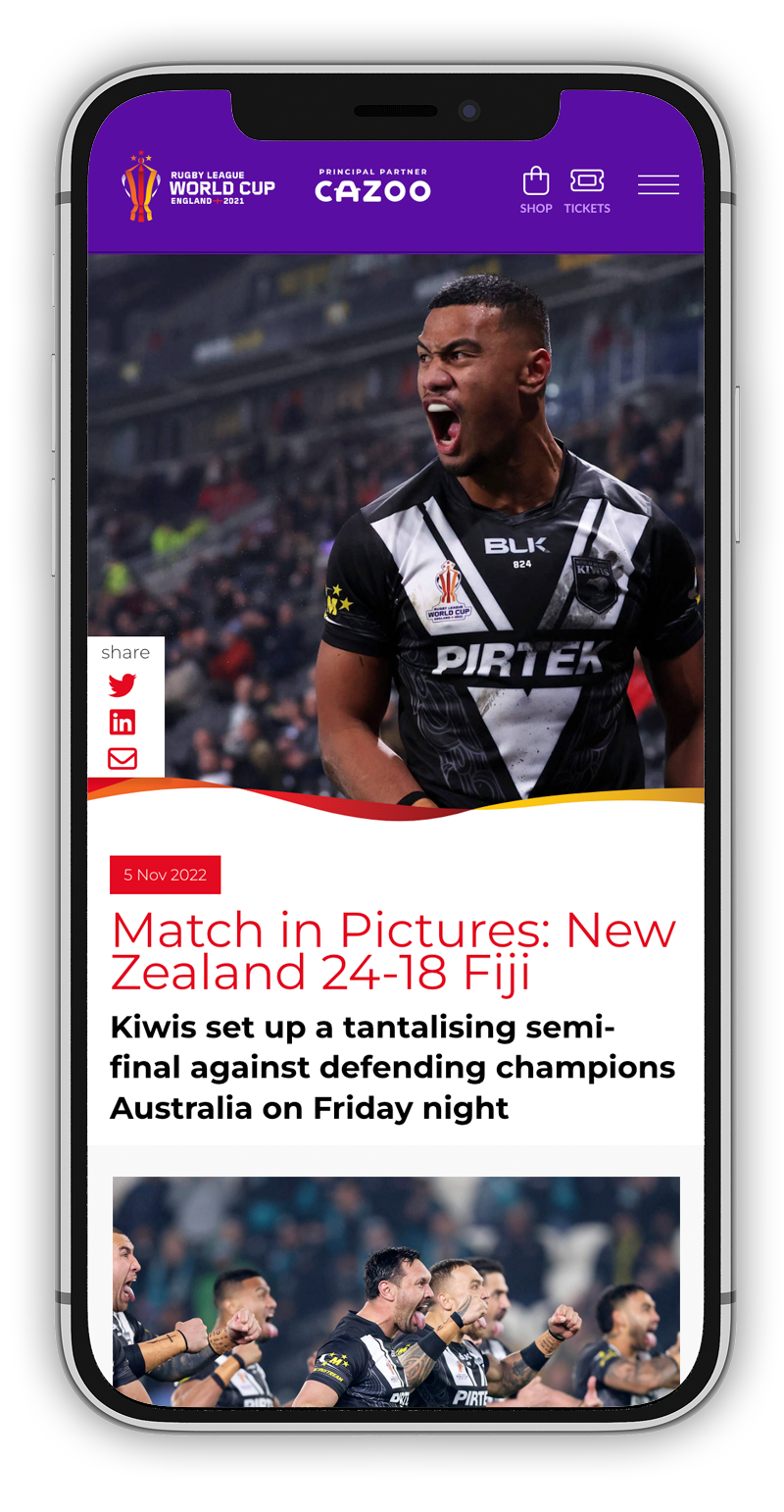 We're proud to say that we've delivered on all counts, and despite the high numbers visiting the site – 100 000 in the first game between England and Samoa, and more than a million in total since the start of the competition on 15th October – the site has performed flawlessly.
1 million
users in the first month
150 Countries
watching the broadcast
Delivery Scope:
Website with accompanying content management system
Live Match Centre with live feed integration from Stats Perform, which updates the website in real time
Rugby League management system for Squads, Nations and Stats
User registration system with grants application and hosts procurement process
Data API to drive editorial content to the official app
Video Streaming Service integration with Stream AMG to deliver video content live and on demand around the world
Scalable load balancing hosting solution with global mirrors
Check out the site for yourself
https://www.rlwc2021.com
Menu